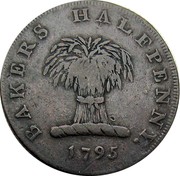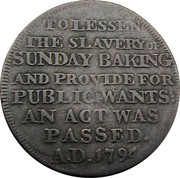 Obverse:
Central wheatsheaf, legend around, date in exergue
Lettering: BAKERS HALFPENNY 1795
Reverse:
Plain design with horizontal legend over 8 lines
Lettering: TO LESSEN THE SLAVERY OF SUNDAY BAKING AND PROVIDE FOR PUBLIC WANTS: AN ACT WAS PASSED. A.D. 1794.
Edge:
Lettered
Lettering: PAYABLE AT I + DENNIS LONDON . X . X .