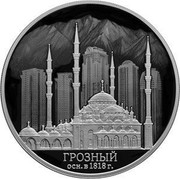 Extended information
Subject
The Bicentenary of the Foundation of the city of Grozny
Obverse
Double-headed eagle with the legend, metal value and the year of issue.
Lettering: РОССИЙСКАЯ ФЕДЕРАЦИЯ AG 925 31,1 СПМД БАНК РОССИИ 3 РУБЛЯ 2018 Г.
Reverse
The Heart of Chechnya mosque with laser matted images of Grozny-City Towers and mountains in the background.
Lettering: ГРОЗНЫЙ ОСН. В 1818 Г.
Edge
Reeded