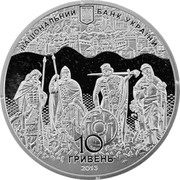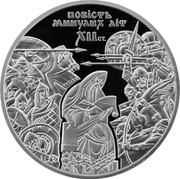 Obverse:
Conventionalized wooden buildings of an Old Rus city, Khoryv, Shchek, Kyi and their sister Lybid, who, according to the legends, were the founders of Kyiv.
Lettering: НАЦІОНАЛЬНИЙ БАНК УКРАЇНИ 10 ГРИВЕНЬ 2013
Reverse:
A conventionalized composition of a battle scene with the image of Nestor the Chronicler in the middle.
Lettering: ПОВІСТЬ МИНУЛИХ ЛІТ ХІІ СТ.
Edge:
Lettered