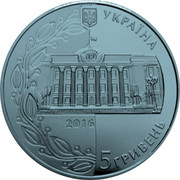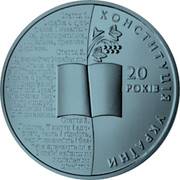 Obverse:
Ukraine's small coat of arms, to the right of which is the semicircular legend 'Ukraine'; the building of the Ukrainian parliament with a floral ornament on the left of it.
Lettering: УКРАЇНА 2016 5 ГРИВЕНЬ
Reverse:
A conventionalized image of an open book, above which is the twig of a guelder rose, the legend '20 years' and the semicircular legend 'Ukrainian constitution'; the text from the first articles of the Ukrainian constitution: Article 1. Ukraine is a sovereign, independent, democratic, social, and law-governed country. Article 2. Ukraine's sovereignty applies to the entire country. Ukraine is a Unitarian country. Ukraine's territory, as defined by the existing boundaries, is indivisible and inviolable. Article 3. A person, their life, health, honor, dignity, inviolability, and safety are of the highest social value in Ukraine.
Lettering: КОНСТИТУЦІЯ УКРАЇНИ 20 РОКІВ СТАТТЯ 1. УКРАЇНА Є СУВЕРЕННА І НЕЗАЛЕЖНА, ДЕМОКРАТИЧНА, СОЦІАЛЬНА ПРАВОВА ДЕРЖАВА. СТАТТЯ 2. СУВЕРНІТЕТ УКРАЇНИ ПОШИРЮЄТЬСЯ НА ВСЮ ЇЇ ТЕРИТОРІЮ. УКРАЇНА Є УНІТАРНОЮ ДЕРЖАВОЮ. ТЕРИТОРІЯ УКРАЇНИ В МЕЖАХ ІСНУЮЧОГО КОРДОНУ Є ЦІЛІСНОЮ І НЕДОТОРКАННОЮ. СТАТТЯ 3. ЛЮДИНА, ЇЇ ЖИТТЯ І ЗДОРОВ'Я, ЧЕСТЬ І ГІДНІСТЬ, НЕДОТОРКАННІСТЬ І БЕЗПЕКА ВИЗНАЮТЬСЯ В УКРАЇНІ НАЙВИЩОЮ СОЦІАЛЬНОЮ ЦІННІСТЮ.
Edge:
Lettered