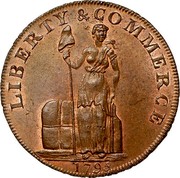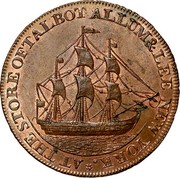 Extended information
Krause catalog:
KM# Tn72.2
Obverse:
Features Liberty standing with a pole, with a Phrygian cap atop, in her right hand in front of a bundle of goods.
Lettering: LIBERTY & COMMERCE
Reverse:
Ship.
Lettering: * AT THE STORE OF TALBOT ALLUM & LEE NEW YORK .
Edge:
Lettered
Lettering: WE PROMISE TO PAY THE BEARER ONE CENT.